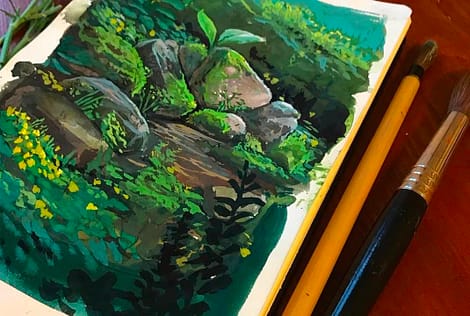 I didn't like gouache when I first started using it.
It was wild, hard to blend, AND dried a different value! What am I supposed to do with that?
However it was easy to transport and I could keep a set in my bag so that I could paint en plein air at any point. I had bought the darned things… so why not?
Over the course of a few years I went from despising it to LOVING it! I learned that I could guide its wild water-loving qualities. I learned that I can decide how long I want to keep the painting wet and blend…able, and that I could know what value it would dry and even begin to not have to think about that any more!
In the end, Gouache is the most versatile medium I know. That's what I want to leave you with, the courage to pick it back up, put in the time and learn more about how to make it work for you.
For those of you who want help, I am here for you. I have put together an 8 session gouache course so that you wont have to take the years that I took to learn everything you need to know.
What is gouache?
Gouache is an opaque watercolor paint. Where transparent watercolors allow you to see the "white" of the paper below the paint, gouache paint can be applied in solid opaque colors, which allows artists to paint in layers. This versatile medium can do MORE than you expect… lets explore it together!
Join me for this 8 week course on everything you need to know about painting with gouache! Work together with me to learn, create, and even watch the feedback that I gave to some of the participants of the first round – feedback that you can apply to your own work.
Whether you are starting from scratch or looking to hone in on your gouache painting skills, this course will provide the structure you need to get to a deeper understanding and a wider practice.
When? This Course is now something you can start right now enjoy at your own pace.
What do we cover in the 8 sessions?
Session 1: Painting with Consistency
Session 2: Wet to Dry
Session 3: Gradients
Session 4: Layering
Session 5: Wet in wet
Session 6: Handling Value
Session 7: Opaque AND Transparent.
Session 8: How far can we push gouache?
Head over to the Course itself to learn more!